!!!Now Updates Seven days a week!!!

Members Gallery Updated
February 19, 2017
!!!Now Updated 7 Days a Week!!!
WHAT'S HAPPENING AT THE LAIR!!
Welcome to my lair.

Our out of the trunk update features adorable neighbor girl Angela tightly mummified against a post in the Hunter's garage. Our endurance video has party girls, Angela, Destiny and Jessica invited to a rave in an old warehouse. But it is a trap by their rival Spirit who stalks and captures each girl one by one and leaves them tightly bound and gagged in the old warehouse.

On Tuesday's handcuffed has neighbor girl Nicole Peters elbow cuffed and hung from a chain by her cuffed elbows sitting on a high stool.

Our bishop girl is hot curly blond Reagan Lush stalked in her own home, captured and cruelly bound, gagged and hogtied by the stalker.

Thursday's boots in bondage has leggy Terra Mizu in skin tight jeans, shiny over the knee boots and leather shoulder length gloves bound in a cruel chicken wing hogtie.

Our Damsel in Distress on Friday features pretty blond babysitter Jennie Jett drugged by the girls she is watching and tightly bound in her bikini top and skin tight jeans mini skirt. Then she is gagged and stripped of her skirt and left to struggling hogtied on the floor in her bikini.

Saturday's super heroine in peril has busty Supreme girl (Gia Love) captured bound, gagged and hogtied by the Hunter.

Sunday has curvy blond MILF Lylah Ryder held for ransom and left bound to a bed by her captors.

Have a great week of bondage and thanks for your support.



Jim Hunter
HANDCUFF GIRL UPDATED EVERY TUESDAY

02-14-2017

Lela Beryl
Photos continued in members area.

BISHOP GIRL UPDATED EVERY WEDNESDAY

02-15-17

Reagan Lush
Photos continued in members area.

BOOTS AND BONDAGE UPDATED EVERY THURSDAY

02-16-17

Terra Mizu

Photos continued in members area

DAMSELS IN DISTRESS UPDATED EVERY FRIDAY

02-17-17

Jenny Jett

Photos continued in members area

SUPER HEROINE &
FANTASY GIRL UPDATED EVERY SATURDAY

02-18-17

Gia Love

Photos continued in members area.

WILLIE GIRL &
UPDATED EVERY SUNDAY

02-19-17

Lylah Ryder
Photos continued in members area.

HUNTER VISION VIDEO UPDATES
HUNTER VISION
VIDEO UPDATE
02-19-17

Lylah Ryder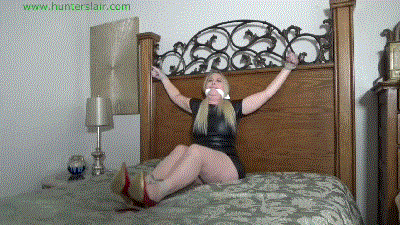 UP COMING HUNTER VISION VIDEO UPDATES

Handcuff

Bishop

Boots in Bondage

Damsels in Distress

Superheroine Fantasy

Willie
OUT OF MY
TRUNK
UPDATE

02-06-17
Chrissy Daniels

Cordelia Sabine

OUT OF MY
TRUNK
UPDATE

02-13-17
Cali Ford

Tomiko




OUT OF MY TRUNK
AND ENDURANCE
VIDEO UPDATE

02-13-17
Angela

Angela, Destiny, Jessica
with Spirit

Coming Next Monday







ARCHIVED PHOTO SETS

NO LONGER UPDATED BUT ARE STILL SHOWING IN THE MEMBERS SECTION

BARELY LEGAL
PHOTO SETS

OUT OF MY TRUNK
MAGAZINE COVERS